Each year in October, Syracuse University observes Remembrance Week.  Events are designed by the Remembrance Scholars whose goal is to raise campus and community awareness of terrorism and to encourage the entire Syracuse University community to honor the 35 Syracuse students and all the victims of the Pan Am 103 bombing by becoming involved and working to positively impact others – Look Back and Act Forward!
As our campus and community looks back on a senseless tragedy, we find comfort and meaning in remembering the lives and passions of those who lost their lives on December 21st, 1988 and especially in acting – on their behalf – to make the communities we live in better.
Remembrance Week – October 23-29, 2016
Week Long Events
Pan Am Flight 103 Exhibit | All day Sunday – Friday, Quad
Card Making for First Responders | Monday, 9 AM, Schine 228; Tuesday-Thursday, 10 AM, Schine Atrium
Sunday 10/23
Candlelight Vigil | 7 PM, Schine 304ABC, Wall of Remembrance
Monday 10/24
Promenade Pop-up Museum | 10 AM, Promenade
Panel: "Doing Memory, Doing Justice" | 7 PM, Slocum Auditorium
Tuesday 10/25
Celebration of Life | 7 PM, Hendrick's Chapel
Wednesday 10/26
Interfaith Dialogue: "Islamophobia on Campus" | 6:30 PM, Noble Room Hendricks Chapel
Thursday 10/27
Open Archives | 2 PM, Spector Room, Bird 608
"My Brother's Bomber" with Ken Dornstein | 6 PM, Newhouse 3 Room 141
Friday 10/28
Open Archives | 9 AM – 12 PM, Spector Room, Bird 608
Rose Laying Ceremony | 2:03 PM, Wall of Remembrance
Remembrance Convocation | 3 PM, Hendricks Chapel
Dove Balloon Release | 4 PM, Quad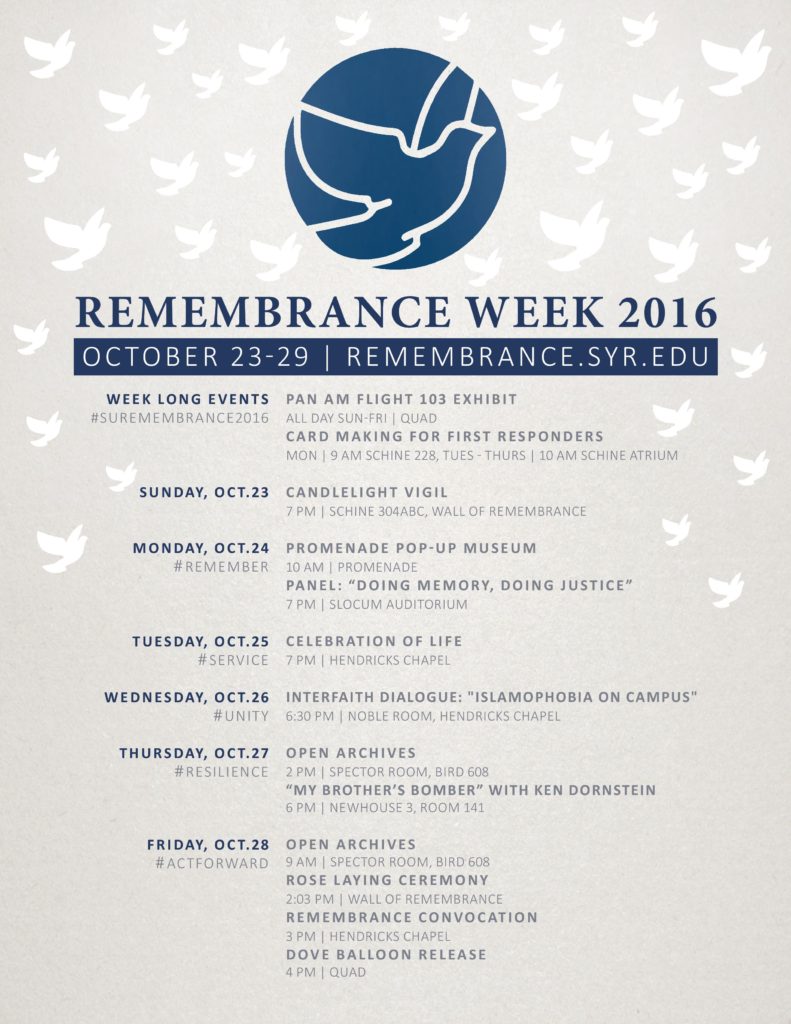 An archive of past Remembrance Week events can be found here.