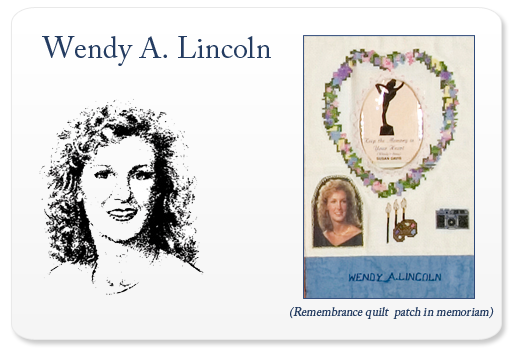 "Grace was in all her steps, Heaven in her life, In every gesture, dignity and love."
January 21, 1965 – January 21, 1988

United States of America

Seat: 28D
Wendy Lincoln, one of the thirty-five Syracuse students returning home for Christmas from a semester in London, was widely mourned by the residents of North Adams, Massachusetts, her hometown. She was fondly remembered for her compassionate and gentle nature, but especially for her humility - humility in the face of great beauty and talent. Wendy was majoring in art and specializing in communication design, graphic illustration and photography at Syracuse where she was enrolled in the College of Visual and Performing Arts. A friend lamented. "Where have you gone so quickly? We took for granted that we would behold your smile again … We took too much for granted."
A 1983 graduate of Drury High School, she was an active, involved student, participating in gymnastics, dance, school government, sports, and the yearbook committee. In college, her interests expanded to painting and photography. Wendy displayed a painting of hers and two photographs at a student art show in London. The show was open to the public, and Wendy's work won accolades. In London her friendly nature shone through: "Every time we went somewhere she would meet someone," reported a classmate, "When we were on a train or a plane she would start up a conversation with someone."
Wendy leaves her mother, Shirley Lincoln, and her father Charles Lincoln, as well as a brother Scott, her maternal grandparents and her paternal grandmother. Her mother, Shirley, remembers her: "Beauty radiated from within her. Gentle and kind, full of laughter and joy - surrounded by love. Her greatest virtue was humility, her greatest joy, helping others."
Remembrance Scholars Representing Wendy A Lincoln
2016-2017
Jourdann Borski

College of Visual and Performing Arts

2015-2016
Mehak Ali

College of Arts and Sciences; S.I. Newhouse School of Public Communications
2012-2013
Emily Deshaies
Whitman
Accounting
2006-2007
Sama Beg



2002-2003
Jill Ennis


1990-19991
Michelle V. Mitchell


1989-1990
Michael Mason



2008-2009
Sarah DiGiulio


2007-2008
Amy N. Otuonye