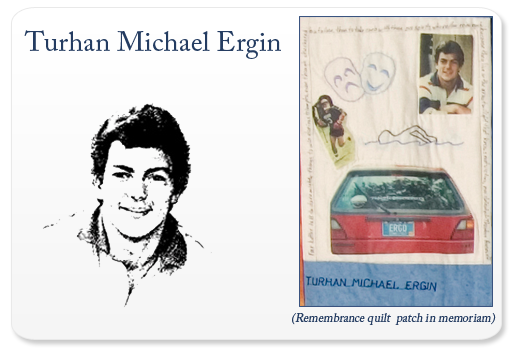 "Actor, singer, dancer; accomplished athlete; fun loving, with a great sense on humor; filled with joy of life; fiercely devoted to his family and friends; comfortable with his world; 'always on stage, forever turned on by life'; sharing it all with others. 'Ergo'" - His Parents
May 14, 1966 – December 21, 1988

United States of America

Seat: 28C
Turhan was a junior at Syracuse University's College of Visual and Performing Arts. He leaves his parents, Dr. and Mrs. M.T. Ergin of Connecticut and four siblings. He was returning home with other SU students for the Christmas holidays before returning to SU for the second semester.
Turhan was handsome, athletic, academically talented, and above all cheerful. Drive and accomplishment were his hallmarks. In his high school yearbook he selected this quote from Theodore Roosevelt, which aptly sums up his philosophy of life: "Far better it is to dare mighty things, to win glorious triumphs, even though checkered by failure, than to take rank with those poor spirits who neither enjoy nor suffer much, because they live in the gray twilight that know not victory or defeat."
His parents describe him in a thumbnail sketch: "Actor, singer, dancer; accomplished athlete; fun loving, with a great sense on humor; filled with joy of life; fiercely devoted to his family and friends; comfortable with his world; 'always on stage, forever turned on by life'; sharing it all with others. 'Ergo'"
By age 12, Turhan was one of the top 25 ranked swimmers in the United States. He competed enthusiastically in the sport and went on to participate in others: lacrosse, football, wrestling, golf, tennis, squash, and skiing. Not just good at sports, he had other interests in which he was equally accomplished: he was a member of the Glee Club, a vocal ensemble, Graffiti, and had lead roles in many dramatic productions at school. He also was on the staff of his high school's literary magazine, associate sports editor for the school newspaper, and he wrote for the pleasure of it.
Remembrance Scholars Representing Turhan Michael Ergin
2016-2017
Andrew Ramos

College of Engineering and Computer Science

2013-2014
Amanda Kullman

LC Smith College of Engineering & Computer ScienceCivil Engineering