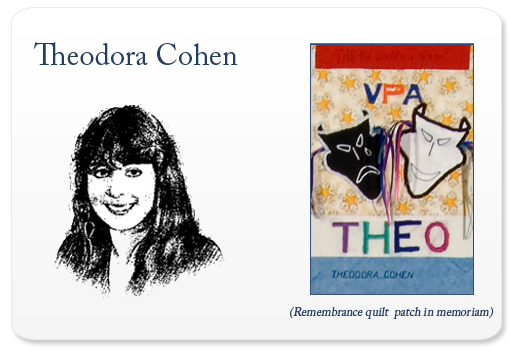 September 10, 1968 – December 21, 1988

United States of America

Seat: 21H
Theo was the only child of Dan and Susan Cohen of Port Jervis, New York. A junior at Syracuse University's College of Visual and Performing Arts, she was returning home from a semester in London. Theo's all-too-brief life was marked by her talent as an actress and singer.
In the fourth grade she got the lead in the class play and her life's work -and love- was launched. From that moment on acting and singing became the central focus of her life. She appeared in every high school and community production available. She never took a summer vacation. From her first year in high school she always worked in the summer stock, starting as an apprentice and finally in 1988 as the lead in the MacHaydn Theater production of "The Fantasticks."
While in London with Syracuse University's DIPA program, Theo went to the theater twice a week and traveled to Greece, Scotland, the Netherlands and France. She took every theater course she could while in London and had plans to start an experimental theater, along with Miriam Wolf, another 103 victim, and other SU friends, upon her return to the United States.
She was bright, articulate, and talented - she had everything to live for. Her parents describe her this way. "Theodora Eugenia Cohen - Theo everyone called her - could be loving and mean; logical and hysterical; cynical and enthusiastic. She made enemies as easily as she made friends. But one thing in her life never varied, her desire to act. In the sixth grade she announced 'theater is my life.' She was robbed of the opportunity to try and live that dream."
Remembrance Scholars Representing Theodora Cohen
2016-2017
Nigel Miller

College of Arts and Sciences; College of Engineering and Computer Science

2013-2014
Janessa Bonti

Falk College of Sport & Human DynamicsNutrition Science