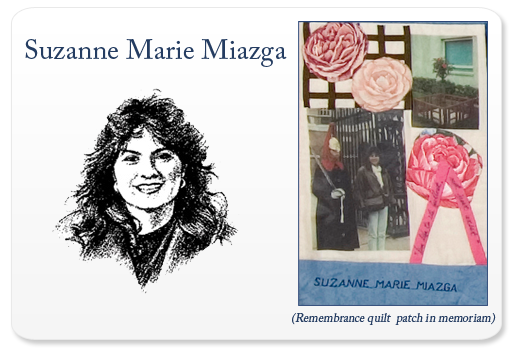 July 31, 1966 – December 21, 1988

United States of America

Seat: 23A
Suzanne Miazga, a graduate student from Syracuse University's College of Human Development was returning from a semester in London as a counselor in the drug dependency unit of St. Mary's Hospital. She was working toward her master's degree in social work. Described as congenial and intelligent by coworkers, Suzanne had also worked as a counselor for drug and alcohol abusers at the Benjamin Rush Center in Syracuse. "She was marvelous. She was able to establish a great rapport with patients," said Tonya Ryan director of social services at the center.
Suzanne saw traveling to London as a chance to grow. In a letter she wrote to her mother, Anna Marie Miazga, she said she wanted to "live life and not just exist." Her overseas studies also allowed her to see other parts of Europe: France, Italy and Switzerland.
Originally from Marcy, New York, she was a 1984 graduate of Oriskany Central High School, where she won the Business Award, was a member of the National Honor Society, Student Council, Spanish Club a cheerleader and participant in the Colgate Seminar Studies. She attended Mohawk Valley Community College, where she majored in Family Services and later earned her Bachelor's Degree from Syracuse. She was also a Licensed Real Estate Agent. She is survived by her mother, Anna Marie and her father Richard Miazga, two sisters Judy Dios and Linda Smith.
Remembrance Scholars Representing Suzanne Marie Miazga
2016-2017
José Marrero-Rosado

College of Arts and Sciences

2013-2014
Clifford Jacobs

Falk College of Sport & Human DynamicsChild & Family Studies
2012-2013
Andrea Butchko
ECS
Civil Engineering