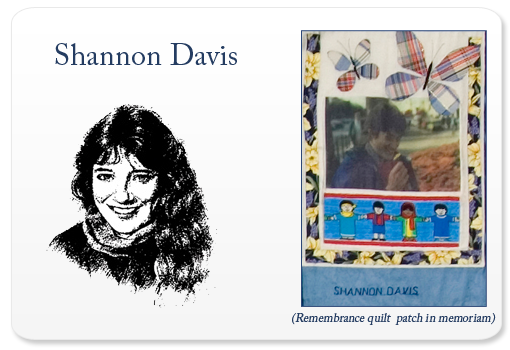 "In her young life, she happily and busily went about leaving her mark of daffodils on much she touched." - her mother, Jane
February 19, 1969 – December 21, 1988

United States of America

Seat: 31A
Shannon was a junior in Syracuse's College for Human Development. From Shelton, CT Shannon leaves her mother, Jane; a brother, Jim and a sister, Whitney, also SU graduates. She was predeceased by her father who died earlier in 1988 in an accident in Saudi Arabia.
Shannon's dream was to operate a day-care center for young children when she graduated. As a fourth grader she and her sister had a baby-sitting service, "Mother's Day Out". In London, Shannon studied child development and worked at toy libraries.
Jane, her mother, remembers "when I think of Shannon I see her beautiful hands as well as her sparkling smile. In her young life, she happily and busily went about leaving her mark of daffodils on much she touched.
With her hands she learned to sign, to mold clay, to stitch sampler, to sew, to create eye-catching bulletin boards wherever she worked with children. Shannon envisioned a Family Center that offered numerous activities for all family members to participate in together.
The words on her funeral card were among Shannon's noted about her Dad, and the daffodils depicted were drawn on the last letter I received from her".
A butterfly lights between us like a sunbeam And for a brief moment its glory and beauty belong to our world…..
But then it flies on again and though we wish it could have stayed we feel so lucky to have seen it.
Remembrance Scholars Representing Shannon Davis
2016-2017
Ilana Siegal

Maxwell School of Citizenship and Public Affairs; College of Arts and Sciences

2014-2015
Alexandra Figueroa Miranda

Arts & Sciences; Maxwell School of Citizenship & Public AffairsAnthropology, International Relations
2013-2014
Carlie Thompson
Arts & Sciences
Psychology, Biology
2012-2013
Bailey White

A&S, Newhouse
Mathematics, Television Radio & Film