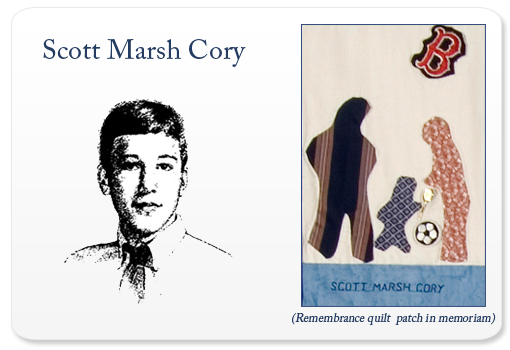 "He left us, but his beautiful smile and joy of life remain with us always." - His Parents
September 27, 1968 – December 21, 1988

United States of America

Seat: 46D
Scott Cory of Old Lyme, Connecticut, was the son of John and Doris Cory. He also leaves two brothers, John and James. Scott was a junior at Syracuse University's School of Management.
Scott was an avid sports enthusiast, both as a player and fan. We are sure he's still "watching" the Boston Red Sox games. His friends last remember him in London's Hyde Park, kicking and juggling the soccer ball. The essence of Scott's life was his family, cousins, friends, and the love and experiences he derived from life. Recalled for his sense of humor and ability to make light of difficult situations, he nonetheless, was a serious student.
In the Syracuse University annual, his parents describe him this way: "well-rounded, outgoing, good student and athlete. Loved his friends, family and two dogs. Had an irrepressible sense of humor. Lived his life to the fullest and considered study abroad one of his greatest experiences. He left us, but his beautiful smile and joy of life remain with us always."
Remembrance Scholars Representing Scott Marsh Cory
2016-2017
Kelsey May

Maxwell School of Citizenship and Public Affairs; College of Arts and Sciences

2013-2014
Henry Chu

Whitman School of Management, Arts & SciencesFinance, Psychology