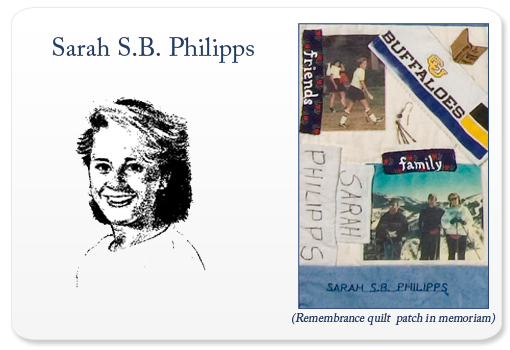 August 15, 1968 – December 21, 1988

United States of America

Seat: 21F
A junior from the University of Colorado at Boulder, Sarah had joined up with Syracuse University's DIPA program in order to take a semester in London. An avid sports enthusiast, she excelled in field hockey and track, and had decided to spend only one semester abroad so she could return for the ski season in Colorado. She leaves her parents, Dr. Ervin and Elizabeth Philipps, of Newtonville, Massachusetts, and two brothers, James and J. Andrew as well as her maternal grandparents.
Sarah left behind a legacy of laughter so compelling that her best friends can't help but remember her with a smile. Her parents describe her as bright, funny, friendly, and beautiful. She loved people, beaches, ski slopes, and sunshine. She was going to be a clever publisher or a witty lawyer, a tender wife and mother, a sturdy citizen. Where Sarah was, there too was laughter and joy.
Born in Boston, she had lived in Newtonville, Massachusetts for many years and was a graduate of the Claflin School in Newtonville, the Frank A. Day Junior High School and Newton North High School. While she was attending Newton North, she had been a member of the girls field hockey team, the ski team and the track team. An English major at the University of Colorado, Sarah contemplated a career either in law or publishing - such was the diversity of her interests. A lover of books, poetry and theater, Sarah enjoyed life and its gifts… the world is dimmer without her and all the other darling children.
Remembrance Scholars Representing Sarah S.B. Philipps
2016-2017
Nedda Sarshar

Maxwell School of Citizenship and Public Affairs; College of Arts and Sciences

2014-2015
Angel Winston

Arts & SciencesPolitical Science
2013-2014
Leann Miles
Arts & Sciences
Biochemistry
2012-2013
Tara Brenner

A&S
Biochemistry/Mathematics