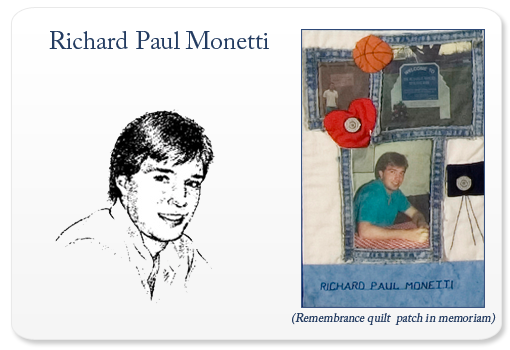 September 11, 1968 – December 21, 1988

United States of America

Seat: 20E
Rick Monetti was a junior at Syracuse University's S.I. Newhouse School of Public Communications who was considering a career in journalism, although he had a keen interest in history and political science. Sports, however, were his love: "He was a real Philly sports fan," said his mother a Eileen. When looking for a place to go to college, Rick and his father visited SU. The first thing Rick wanted to see was the Carrier Dome. That decided where he was going to college.
A 1986 graduate of Cherry Hill East High School (NJ), Rick made his mark in high school as a student, athlete and sports journalist. He received school honors for his special talents in broadcasting and sports casting and also received an award from KYW News Radio in Philadelphia for his work in their intern program. He wrote for the local newspaper, the school paper, and broadcast regularly on the school's cable TV station. An avid sports fan, he was also a valued member of the school's swim team and soccer team. Rick was involved in SADD (Students Against Drunk Driving), and spoke to elementary school students as a part of a drug education program. For many years, he was a leading member of his neighborhood's Swim Club team and in 1988 he was the assistant swim team coach and the pool's assistant manager.
In his journal, recovered from Lockerbie, we see that for Rick, much of life was a sports metaphor. "Rick's Philosophy on Life or What I've Learned in 20 Years" gives us an insight into this delightful young man: "Read the sports section first, the news can wait till later" "A positive attitude is worth 5 points." We see his humor: "When in the presence of people who are just too serious, act just a bit dumb, eccentric." His faith: "God really is watching and helping me." And finally: "So analytical tonight- feeling old at 20, that lost innocence of youth. Don't sit back, make the most of everything. Do all you can while you can. Life is a one-time deal. You can't ever re-do what you missed the first time. The opportunity is here, stop looking past it. Sure, December 21 is going to be great but so is October 10. Be aggressive, be fun and go crazy. There is no reason to hold anything back. Nothing to lose."
Rick leaves his parents, Bob and Eileen Monetti and his sister, Kara.
Remembrance Scholars Representing Richard Paul Monetti
2016-2017
Malik Evans

Martin J. Whitman School of Management; S.I. Newhouse School of Public Communications

2013-2014
Bradley Slavin

S.I. Newhouse School of Public Communications, School of Information StudiesTelevision, Radio and Film, Information Technology
2012-2013
Perry Russom
Newhouse, A&S
Broadcast Journalism, Political Science