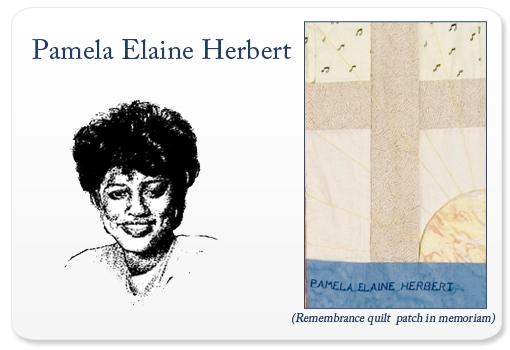 "She was always looking for the best"- Her Father
March 27, 1969 – December 21, 1988

United States of America

Seat: 37J
One of the Syracuse University DIPA students aboard Flight 103, Pam was a junior at Bowdoin College in Brunswick, Maine. An extraordinary woman, both spiritually and intellectually, Pam Herbert made her mark early in life and leaves us inspired.
She was born the third of five girls in Detroit, Michigan. A member of the Church of God in Christ, wherever she went she was always sure to find a church to attend. At college, she was instrumental at organizing music programs for the church she attended there. Peer pressure did not prevent Pam from stretching out her faith.
As a child, Pam was double promoted from kindergarten to second grade. In middle school, she became an active participant in Academic Achievement Games and excelled academically. In the summer of her seventh grade year, she was recommended to attend Horizons Upward Bound at Cranbrook in Bloomfield Hills, Michigan. After attending Renaissance High School for her freshmen year, she was presented with a full scholarship through Horizons Upward Bound to attend Kingswood Prepatory School.
Pam was an achiever of her goals. Among her awards were: Archimedes Award, Honors List award, Academic Honor Roll, American Legion Award, Academic Games Award, Captain of JV Basketball and Volleyball teams, Dorm Council Representative at Cranbrook, Newspaper Staff, Sportsmanship Award and many others. She attended Project LEAD at the University of Arizona in 1985 as one of thirty students. She was also a participant at the National Conference for College Women Student Leaders in Washington, DC in June 1988.
The plight of homeless people in London moved Pamela. She wanted to do something about it, so she planned to work with the homeless back in Michigan in the summer of 1989. "Her biggest accomplishment, she felt, was helping people," said a childhood friend, Angela Murphy.
Pamela had a dual major in economics and sociology. The semester abroad allowed her to study at the London School of Economics. "She was always looking for the best," said her father, "Whatever was about to occur that would move her forward she would take advantage of."
Pam lived her life to the fullest and always gave God the glory, always singing, always smiling, and always on the go. That's the Pam that will always be remembered.
Remembrance Scholars Representing Pamela Elaine Herbert
2016-2017
Farrell Brenner

Maxwell School of Citizenship and Public Affairs; College of Arts and Sciences

2013-2014
Ellen Moore

Arts & SciencesInternational Relations, Policy Studies
2012-2013
Kishauna Soljour
Newhouse, A&S
Television, Radio & Film, African American Studies