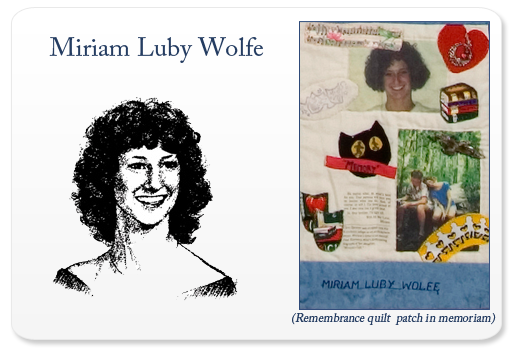 "So long as we live she, too, shall live, for she is now a part of us as we remember her." - Rabbi Robert G. Klensin
September 6, 1968 – December 21, 1988

United States of America

Seat: 21K
By the time she graduated from Severna Park (Maryland) High School in 1986, Miriam knew what she wanted to do with her life. In the yearbook she wrote as her goals" "sing and dance my way through life, star on Broadway, become internationally famous, win an Oscar…. And live happily ever after." The dreams ended on Miriam's trip returning home from a semester in London in which she had studied dance, dramatic literature, acting, voice and art history. She also had a drama internship at London's Kingshead Theatre.
In high school Miriam was president of the Drama Club and winner of the 1986 Linda Joy Davies Memorial Award for Achievement in Art and Humanities. Her drama teacher there remembers her as energetic and talented. "She was a good actress and had a real flair for comic acting." She and several other Syracuse University students had planned to put together an experimental theater group in Syracuse to deal with subjects such as rape, AIDS, and women's issues. Writing plays was a recent project idea she and shared with her family. "She had all kinds of plans," her mother, Rosemary Mild, said.
Miriam was an excellent and prolific writer and published an article on censorship her senior year in high school in The (Annapolis) Capital. After she died her mother published eight of her essays, short stories and poems in The Washington Post, Cricket, Dramatics Magazine, Art Times, Soap Opera Magazine, Kids' Byline, and The New York Daily News.
Her mother goes on to describe Miriam as brilliant, gifted, but most of all giving. To her family, her friends, and the world she gave an extraordinary portion of love, joy and wisdom.
Miriam also embraced life with a rare zest and passion, particularly in London in the fall of 1988. Her exuberance was all encompassing: she didn't walk, she bounced, her luxuriant curls bobbing, intense blue eyes sparkling. Miriam was also an inspiring friend - full of humor and encouragement, never judging, even helping those who were auditioning for the same role she was trying out for. Helping people, even strangers, was second nature to her.
The only child of Rosemary Mild, she also leaves her stepfather, Lawrence Mild, her father James Wolfe and her stepmother, Rosemary Wolfe. She also leaves two stepsisters, Jackie Mild Lau and Myrna Mild Spurrier, and a stepbrother Chris Spencer.
Rabbi Robert G. Klensin in his eulogy referred to Miriam's many mitzvahs, the Hebrew for "good deeds." When she was younger she went door to door collecting for UNICEF. She often gave blank diaries as gifts and inscribed a page with various inspirational verses that encouraged the recipient to write his or her own thoughts. He concluded, "We may not smile today or tomorrow, maybe not next week. Somehow we must focus not on what could have been, but what was, on the beauty of her life and all that she brought to us and so many others. So long as we live she, too, shall live, for she is now a part of us as we remember her."
"Grandmother, I have made all my relatives lonesome…. I left them downhearted upon the earth. I would that they could have all that life which I left behind me on earth. This is what they asked. This likewise, they asked me, that they should not have to travel on this road for some time to come."
--Winnebago Indians
Remembrance Scholars Representing Miriam Luby Wolfe
2016-2017
Ryan Gibson

College of Visual and Performing Arts; College of Arts and Sciences

2013-2014
Francesca Santoro

College of Visual & Performing ArtsMusical Theatre
2012-2013
Michelle Tarshus
iSchool
Information Management & Technology