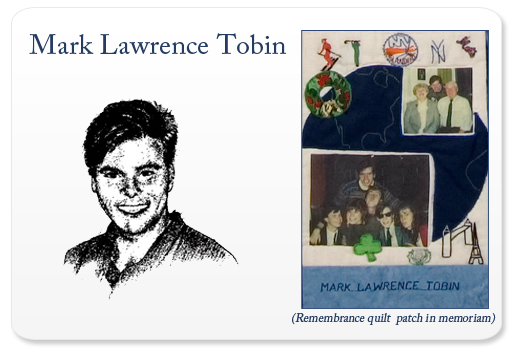 "He just couldn't stop seeing new things and new places." - His Mother
April 4, 1967 – December 21, 1988

United States of America

Seat: 32G
Since his freshmen year at Chaminade High School on Long Island in New York State, Mark wanted to be a television sports announcer. To achieve this goal he worked on Fordham University's radio station and had spent the semester in London with the Syracuse University communications program. He was returning to spend Christmas with his family in Hempstead, New York. Mark was the sixth of the Tobins' seven children.
Both as a spectator and a participant, Mark loved sports. From his early teens he loved golf, swimming and tennis. In his college years, he added ice hockey, surfing, and skiing. In a four-day trip to visit a sister in Chicago, Mark managed to see a football, a hockey and a basketball game.
His parents commented that Mark was "eternally optimistic about the successful outcome of all his undertakings. He was valued as best friend by more people than we ever knew about." They recalled that Mark played the clown-juggler in a high school production of Barnum. "In retrospect this seems an appropriate role. He never needed center stage; he could make the best of any opportunity. He had an off-beat sense of humor that kept us all on our toes. He had the knack of keeping many balls in the air, of doing many jobs well, but especially of enjoying life and giving joy."
His parents knew he liked to travel but they didn't know quite how much. Relative and friends have turned up with post cards sent by Mark from places his parents never knew he visited. His mother said, "He just couldn't stop seeing new things and new places."
Remembrance Scholars Representing Mark Lawrence Tobin
2016-2017
Francis Morency

Maxwell School of Citizenship and Public Affairs; College of Arts and Sciences

2013-2014
Kyle Coleman

School of Information Studies, Whitman School of Management, Arts & SciencesInformation Technology, Accounting and Finance, Economics
2012-2013
Laura Foti
Newhouse
Public Relations