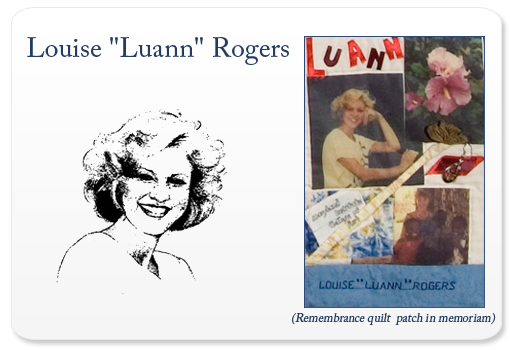 February 13, 1967 – December 21, 1988

United States of America

Seat: 29D
Louise Rogers, a Maryland Institute of Art senior, was studying in London through the Syracuse University DIPA program. While in London she roomed with four Syracuse University drama students. In college, Luanne studied painting, sculpture and photography. She had recently changed her major to Fine Arts from Interior Design.
Two months shy of her twenty-second birthday when she died, Luanne's life was full of dreams and promised. Colorful and offbeat, Luanne did everything with style. Funny and feisty, creative and hardworking, warm and determined, Luanne kept a sense of purpose. She wanted to learn from life all she could and was a serious student in school, work and play. She enjoyed fine arts and photography and studied both while in London. Luanne made a strong impact on everyone she met and her loss leaves an incredible void in the lives of her family, parents Oregon and Ann and siblings, Becky, Ken, Lawton and Jay.
During her sister's Peace Corps service in Senegal, Luanne spent five weeks visiting the village where she was working. NDiaye, where death is a frequent visitor and infant mortality rate is over 50%. The people of the village expressed their sorrow at the death of Luanne, whom they had come to know and love. Luanne's sister, Becky, explains, "They grieve with all the families. Senegalese always greet a friend by asking if God is with your family and sending greetings to the people of your home and kind. When my family gave me their condolences, they asked me to greet my people: the other families of Pan Am 103. Now, in closing I send you all sincere and deeply felt love and sorrow from one small African village. They knew one person but understand better than most, all our grief and sorrow over the loss, waste and wreckage of God's most precious gift."
Luanne's plans after graduation were indefinite, but her direction was clear and her goals high. Her ambition was to pursue work in the art field. A scholarship was established at Sherwood High School from which Luanne had graduated. There have been ten $1,000 scholarships given to ten high school seniors who intend to pursue work in the art field.
Remembrance Scholars Representing Louise "Luann" Rogers
2016-2017
Soleil Young

Maxwell School of Citizenship and Public Affairs; College of Arts and Sciences

2012-2013
Natascha Trellinger

EngineeringAerospace Engineering, Mathematics