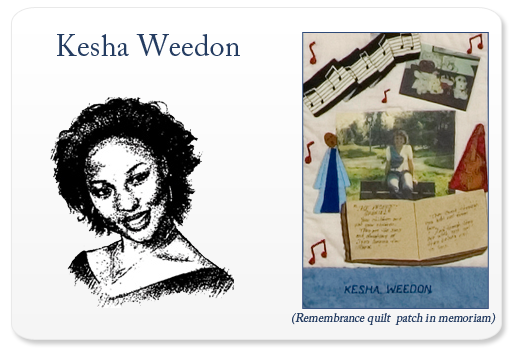 October 2, 1968 – December 21, 1988

United States of America

Seat: 37H
The crash that ended Kesha's life also ended the life of her boyfriend, Timothy Johnson, who had traveled to London two weeks prior to visit with her before her return home from a semester of study with Syracuse University's DIPA Program. Kesha was a junior in the School of Social Work in SU.
Kesha grew up in the Bronx, and was very active in Youth For Christ, a campus religious group. She also sang in a number of campus and church choirs. Her musical talent extended to the violin, which she has played since second grade. She played in the university's orchestra.
Kesha's goal was to work with young children. In high school she had worked in a day care center and while in London she worked in a nursery. She planned to continue working for her master's degree after her graduation from SU.
Kesha is survived by her parents, Lee Weedon and Barbara Matthews. Kesha's mother writes in the SU yearbook: "Moments remembering Kesha are some of the most pleasant, pensive moments in my life. That gentle smile, her soft melodious voice, saying 'I love you, Mommy' I'll remember forever. My fervent wish is that all families with daughters be fortunate enough to share a warm, loving and sensitive relationship as Kesha and I."
Remembrance Scholars Representing Kesha Weedon
2016-2017
Miracle Rogers

School of Education

2013-2014
Ariella Davis

Falk College of Sport & Human Dynamics, Arts & SciencesChild & Family Studies, Policy Studies
2012-2013
Alaina Mallette
A&S
Geography, Spanish