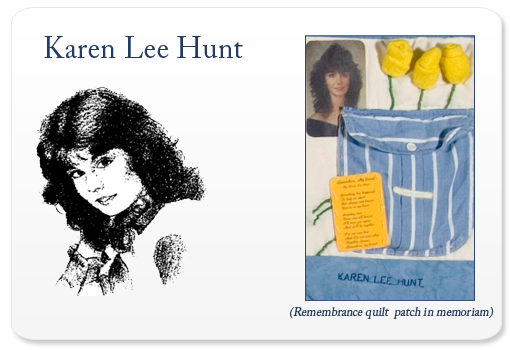 "Something has happened To keep us apart But always and forever You're in my heart Someday soon From now 'til forever I'll meet you again And we'll be together I'm not sure how And I'm not sure when Together, forever, Somewhere, my friend"--Karen Hunt
January 7, 1968 – December 21, 1988

United States of America

Seat: 31B
Karen Hunt of Webster, New York was a Syracuse University junior at the College of Arts and Sciences, majoring in English with a minor in journalism. This lovely, thoughtful girl had hoped to become a magazine writer. She wrote sensitive poetry and kept a journal, which was returned to her parents from Lockerbie.
Karen leaves her parents, Bob and Peggy, and a younger sister Robyn. A close-knit family, Karen and her mother often shared long conversations. Karen had taken care to buy special gifts for her family while she was in England with special attention to her sister Robyn and her parents. One of those gifts, a teapot, survived the crash and is now one of Peggy's prized possessions… a reminder of Karen's generous gift.
The last time Peggy Hunt saw her daughter Karen was in October of 1988. They met in London and then traveled to Paris for three days. As many of the SU students' parents who visited their children in Europe during the fall of 1988, Peggy remarked on the new maturity Karen demonstrated after spending some time abroad. But most of all, Karen is remembered by friends, family and teachers as a warm and caring person who embodied goodness.
From Karen Hunt's journal: I wake to sleep and I take my waking slow I feel my fate In things I cannot fear I learn by going where I have to go--Theodore Roethke
Remembrance Scholars Representing Karen Lee Hunt
2016-2017
Megan Minier

School of Information Studies

2013-2014
Marwa Eltagouri

S.I. Newhouse School of Public Communications, Arts & SciencesMagazine Journalism, Political Science
2012-2013
Alyssa Ierardo
A&S
Biochemistry, Geography
2008-2009
Timeka Williams



2007-2008
Jaclyn A. Pfaehler


2006-2007
Meredith Bowen


2002-2003
Christine King



1990-1991
Mary J. Kuss


1989-1990
Eric Hornstein