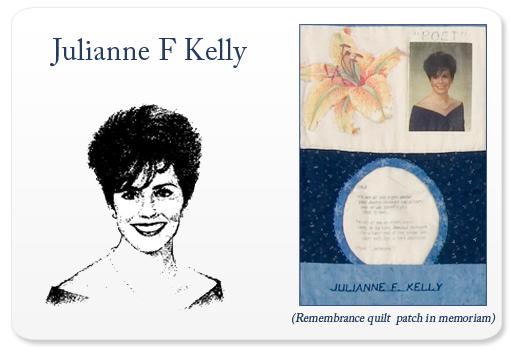 June 27, 1968 – December 21, 1988

United States of America

Seat: 21E
Julianne Kelly was returning home to Dedham, Massachusetts to spend Christmas with her mother, Rita, and two sisters, Mary Ellen and Janice. Her father, Thomas had died in 1982. Her family remembers her as one who saw the humor in everyday life; saw injustice and wanted to change it; listened with a sympathetic ear and believed one person could make a difference. She was intelligent, fun-loving, insightful and talented.
Julianne was a Syracuse University student, one of 35 on that plane, who had spent a semester in London. She was a junior in the S.I, School of Public Communications; pursuing a double major in political science and public relations.
Described as a "romantic" by her teachers, Julianne had graduated from Dedham High School in 1986. She was remembered there as a gifted writer, head of the cheerleading squad, lead performer in a school production of "Grease" and a friend to all. Her interest in writing and the arts led her to Syracuse University. Teachers explain that she was also a very good singer and songwriter. This multi-talented dreamer had recently refocused her educational plans to include a study of art history and was considering studying law after graduation from Syracuse. With her many talents and interests, the future looked bright for Julianne.
A prolific poetry writer, Julianne leaves us this poignant fragment of her poetry.
Orb
We are all like nigh snow that dances through the silver orb of the streetlight then is lost.
Think of me as nigh snow that, in turn, danced through the silvery orb of the streetlight
then was lost in the soft darkness.
-from "Journals" by Julianne Kelly-
Remembrance Scholars Representing Julianne F. Kelly
2016-2017
Samantha Steinert

Falk College of Sport and Human Dynamics

2013-2014
Megan LeBlanc

Arts & SciencesNeuroscience, Psychology
2012-2013
Carly Getz
Newhouse, Whitman
Public Relations, Marketing