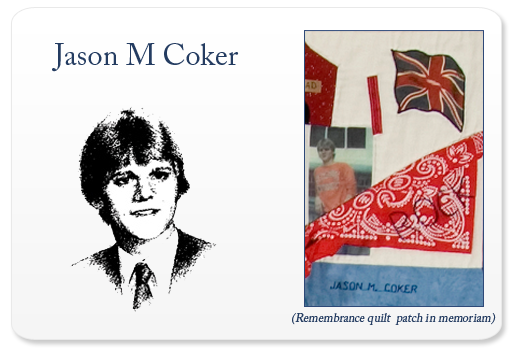 "May God let them and our love be one forever." - Tom Coker
April 23, 1968 – December 21, 1988

United States of America

Seat: 43A
Eric and Jason Coker, twin brothers from Mendham, New Jersey, were traveling home from London after completing a semester with Syracuse University's DIPA program. Graduates of West Morris Mendham High School, they were remembered by teachers there as playful and like-able. Described by a high school teacher as "just a lot of fun," their family all feel the loss of joy in their presence.
Jason was a junior at the Newhouse School of Communications at Syracuse. He was on the staff of the "Orangeman" and was co-founder of World Watch, an international current affairs club at the college. He had hoped to work in either television or newspapers as a journalist.
They are remembered by family as follows:
Brothers together they come in sweetness and beauty Brothers together they left in God's grace Gifted by God with Goodness and light their privilege, their burden Kind in the land of the uncaring Virtuous in the land of the ambiguous Giving in the land of the greedy Sighted in the land of the blind Aware in the land of the somnolent May God let them and our love be one forever. - Tom Coker
Some of this passion found an outlet in his writing. Jason hoped to become a journalist or novelist some day and often had a literary work in progress. It wasn't necessary to read his stories, though, to be entertained. He and his twin, Eric, were incredibly funny guys and if you weren't the butt of their jokes, your sides were probably splitting from laughing so hard at them.
In keeping with his outrageous personality, Jason often sported red high top sneakers and tied a red bandanna around his head. He made a party wherever he went and he was the life of it. I truly admired my brother, not only because of his natural gregarious-ness, but also because of his ability to marry that quality with sensitivity and intelligence. He enjoyed stimulating conversations and debates and demonstrated insight beyond his years. He opened my mind to ideas and experiences I'd never thought of before and literally demonstrated the adage "carpe diem".
Remembrance Scholars Representing Jason M. Coker
2016-2017
Terence Wells

Newhouse School of Public Communications

2013-2014
Emily Pompelia

Arts & Sciences, S.I. Newhouse School of Public CommunicationsNewspaper & Online Journalism, German, Policy Studies
2012-2013
Alise Fisher
Newhouse
Public Relations