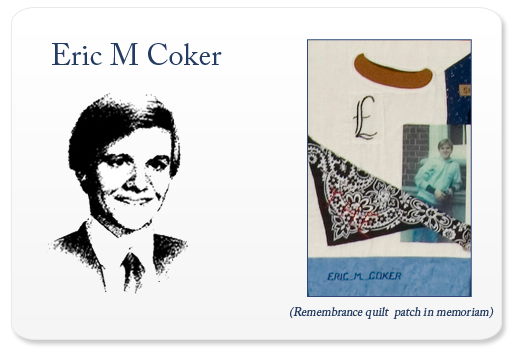 "May God let them and our love be one forever." - Tom Coker
April 23, 1968 – December 21, 1988

United States of America

Seat: 43B
Eric and Jason Coker, twin brothers from Mendham, New Jersey, were traveling home from London after completing a semester with Syracuse University's DIPA program. Graduates of West Morris Mendham High School, they were remembered by teachers there as playful and like-able. Described by a high school teacher as "just a lot of fun," their family feels the loss of joy in their presence.
They are remembered by family as follows:
Brothers together they come in sweetness and beauty Brothers together they left in God's grace Gifted by God with Goodness and light their privilege, their burden Kind in the land of the uncaring Virtuous in the land of the ambiguous Giving in the land of the greedy Sighted in the land of the blind Aware in the land of the somnolent May God let them and our love be one forever. - Tom Coker
Eric was a junior, majoring in economics at the University of Rochester. He was a member of the Newman Club, the Meridian Club and the Economics council organization. He was also instrumental in organizing university ski trips. Eric planned to study for his master's degree in economics after obtaining an undergraduate degree in the subject.
Eric was fastidious in everything from academics to clothes to work to relationships. He felt very clever, for example about stringing Christmas lights around his dorm room to impress his dates. It was this extra touch, he averred, that made him such a good catch.
Another means that Eric used to demonstrate his outlook on life was photography. Self-taught, he gradually acquired a variety of paraphernalia and kept a steady stream of interesting pictures flowing into the house. The lovely photographs he took while in London attest to the wonderful time he and Jason must have had during their semester abroad. Those images tell the story that, tragically, we'll never hear them tell themselves. The photographs are a source of comfort to me, though, in that whenever I'd like a taste of Eric's perspective, I always know where to find it. - Julie Norwell
Remembrance Scholars Representing Eric M. Coker
2016-2017
Alexis Rinck

Maxwell School of Citizenship and Public Affairs; College of Arts and Sciences

2013-2014
Danielle Steinberg

School of EducationInclusive & Elementary Education
2012-2013
Kemardo Henry
A&S
Biochemistry