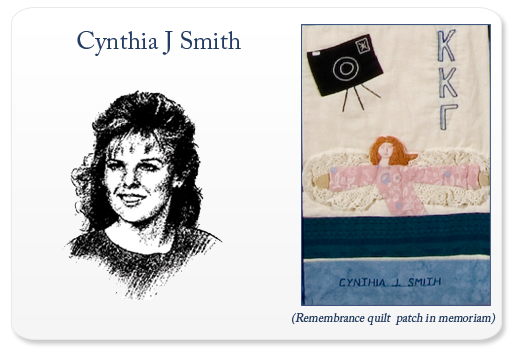 "She had everything going for her - personality, friends. She just loved life." - father, Edward Smith
October 6, 1967 – December 21, 1988

United States of America

Seat: 41A
Cindy enrolled in the Syracuse University College of Human Development because she wanted to be a fashion designer. She then participated in the DIPA program in London because she wanted to learn more about European fashions. She also enjoyed personal market research - she loved to shop! For her twenty-first birthday in October, while she was in London, her family in Milton, Massachusetts put money in her account and told her to "buy something fun in Paris."
Abigail Kedem, her London roommate, recalled how much Cindy enjoyed visiting museums throughout Europe. Abigail remembers how outgoing Cindy was too.
Cindy helped people. In high school she worked with other students to help them with problems such as drinking, drug use, and pregnancy. She also hosted a weekly cable television program that focused on the same issues. When a friend was feeling down, Cindy would find out what was wrong, according to her mother Joan, "she was always sympathetic and understanding".
Her father Edward said "We spoke to her Wednesday, December 21. She was so excited about coming home. She had everything going for her - personality, friends. She just loved life."
Remembrance Scholars Representing Cynthia J. Smith
2016-2017
Clayton Baker

School of Information Studies; Maxwell School of Citizenship and Public Affairs; College of Arts and Sciences

2013-2014
Allison Roberts

Arts & SciencesBiochemistry
2012-2013
Ryan Badman
A&S
Physics, Applied Mathematics