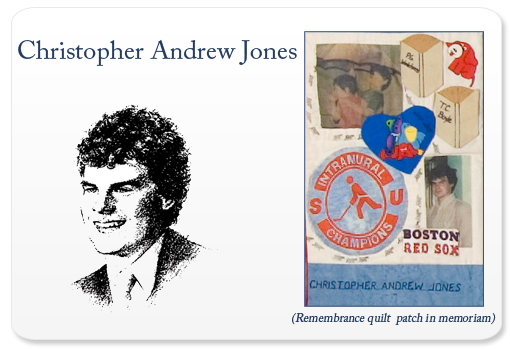 "… you will never be gone: your great, great expectations must live on in all of us. That is where we can find you now. That is how we'll bring you home." - Syracuse University Professor, Douglas Unger
March 4, 1968 – December 21, 1988

United States of America

Seat: 52K
Christopher Jones, a Syracuse University junior majoring in English and History, was returning home for an especially nostalgic Christmas at his home in Claverack, New York. It was to be the family's first Christmas since the death of Chris' eighteen-year-old sister, Jennifer, in January of 1988 while she was an AFS exchange student in Ecuador. Chris leaves his mother and stepfather, Anthony and Georgia Nucci, of Claverack, New York, his father Kenneth Jones, of Wenham, Massachusetts, and three stepsisters, Monica Nucci, Lisa Brittain and Kim Matteson.
A 1986 graduate of Hudson High School in Hudson, New York, Chris was a well-liked student, respected by faculty and students alike for his easy sense of humor and for being a reliable friend and good student. He was on the varsity basketball team, where in two years he scored two points, but he never missed a game or practice! "Those two points were the most cheered in Hudson basketball history," said a classmate. He was on the varsity tennis team and received the Most Improved Player Award, and he played on the varsity soccer team. Obviously no great athlete, his participation was prized for the sense of eager fun he brought to all he did. His enthusiasm for life, sports, popular music, or whatever his attention turned to, drew others in to the enjoyment Chris experienced in all he did. His special gift was to bring joy to the lives of those who knew him.
At Syracuse Chris, known only as Shrub by his classmates because of his curly mop of hair, wrote for The Daily Orange, the SU newspaper, participated in intramural sports and did promotional work for the school radio station. His greatest contribution was as a sympathetic ear and provider of encouragement for classmates and friends who were discouraged. A promising writer, Chris' favorite class was his short story class. His stories, always humorous, still provide hours of whimsical reading. He was fan of P.G. Wodehouse, Monty Python and Gary Larson and all the Boston sports teams, win or lose.
While his future plans were far from firmed up, writing certainly would have played a part of his life, although it is hard to imagine Chris in a profession that did not involve interaction with people. In his high school yearbook he describes his future plans: College, Sportswriter for "The Boston Globe", marriage upon retirement, spend final happy days in Boston Garden enjoying another Celtic dynasty.
… you will never be gone: your great, great expectations must live one in all of us. That is where we can find you now. That is how we'll bring you home. - Syracuse University Professor, Douglas Unger
Remembrance Scholars Representing Christopher Andrew Jones
2016-2017
Patricia Terhune

Maxwell School of Citizenship and Public Affairs; College of Arts and Sciences; Newhouse School of Public Communications

2013-2014
Sieglinder Mghenyi

Falk College of Sport & Human DynamicsPublic Health