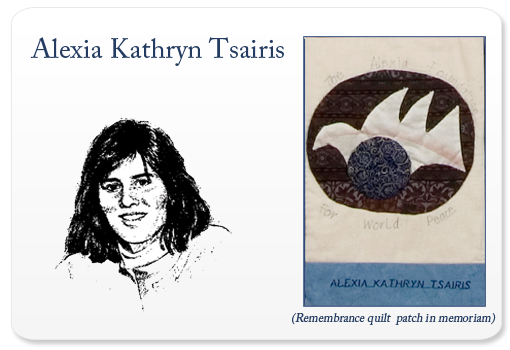 July 6, 1968 – December 21, 1988

United States of America

Seat: 21G
Alexia was a junior at Syracuse University's S.I. Newhouse School of Public Communications and had spent the fall 1988 semester in London studying photojournalism. Professor Donald Sutherland, her advisor in London, commented that "the photography program, composed of professors and peers, had selected her as the most talented and promising photographer in the group. She had the best, well-rounded documentary presentations and also achieved the highest grades among the photography students in the international program". In the 1988 student competition, she had the distinction of being the only entrant to receive two awards. Alexia had already spent two summers working in the Graphic and Photo Department of the Associated Press. Even before graduation, her promising career was underway.
Alexia was a strong person who liked athletics and participated enthusiastically. Her particular love was volleyball. She was a teaching assistant at the World Volleyball Training Center in Port Jervis, New York. Her Syracuse coach, Dan Schulte, said, "Her teammates bonded to Alexia not only because of her love of volleyball, but for her feverish love of life." Alexia was also a senior lifeguard, coach and instructor of swimming.
The Alexia Foundation for World Peace established in response to Alexia's death, has the abiding belief in the capacity and responsibility of individuals to shape and advance peace in our time. It is dedicated to providing the means for scholars to do so. Since 1991, the Alexia Foundation has awarded $15,000 annually in tuition and grants to 5 undergraduate Alexia Scholars in its student competition. Additionally, the newly instituted professional competition awards $15,000 each year to a professional photographer. Since its inception the Alexia competition, referred to as "the Alexia" in photographic circles, has offered photojournalism scholarships and grants to 40 students and 2 professional photographers designating them as Alexia Scholars.
Remembrance Scholars Representing Alexia Kathryn Tsairis
2016-2017
Genevieve Pilch

College of Arts and Sciences; Newhouse School of Public Communications

2013-2014
Erin Carhart

Arts & SciencesPolicy Studies, Women & Gender Studies
2012-2013
Anna Kahkoska
A&S
Biochemistry
2008-2009
Eileen Finn



2006-2007
Dom Fufidio


2002-2003
Scott Austin


1990-1991
Heather Taylor



1989-1990
Gina Selepak


2007-2008
Marlene Goldenberg