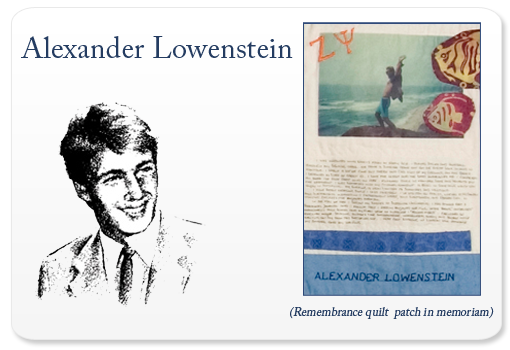 You were always the sunshine…… but the sun hasn't set for you, Alex my friend--- it has only risen on another beach--- J. Cunningham
February 25, 1967 – December 21, 1988

United States of America

Seat: 20D
Alexander, like so many of those on board PanAm-103 on that awful December 21, 1988 day, was a very special young man. He loved being at Syracuse University. He thoroughly enjoyed his semester abroad in London and was looking forward to an upcoming holiday scuba diving trip to Hawaii with mother, father and younger brother.
Alexander was a lover of the outdoors. His special love was surfing; a passion he pursued ardently in Montauk where he spent all of his summers from the age of three on. An English major he had decided while in London to pursue a career in clinical psychology. His ability to draw people to him; to confide in him would have served him well in this career.
His life, although much too short, was rich with joy and laughter. For this we are so grateful. Of all the remembrances, the one that would have given Alex the most pleasure would surely have been the erection by his fellow surfers of "Lowenstein Court", the pre-eminent surfing spot in Montauk, Long Island.
Remembrance Scholars Representing Alexander Lowenstein
2016-2017
Jamie Weiss

Newhouse School of Public Communications

2013-2014
Korey Tillman

L.C. Smith College of Engineering and Computer ScienceComputer Science
2012-2013
Andrew Jake Cline
LCS
Biomedical Engineering
2008-2009
John Crandall

Scholar College Temp
Field/Major Temp
2008-2009
Jim Armstrong

Scholar College TempField/Major Temp
2007-2008
Brian Spendley


2006-2007
Roslyn Esperon



2002-2003
Alaina Potrikus


1990-1991
Karyn A. Moody


1989-1990
Gregory Mayes