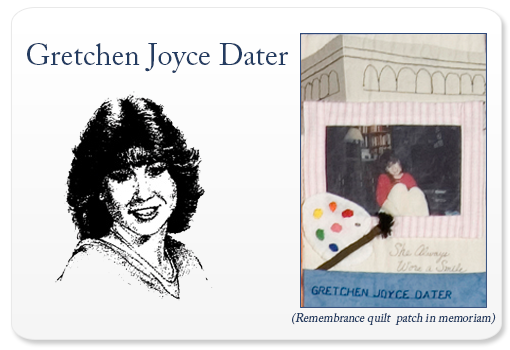 May 17, 1968 – December 1, 1988

United States of America

Seat: 52J
Gretchen Dater was a junior at the Maryland Institute of Art studying in London through Syracuse University. She lived in Ramsey, New Jersey with her parents, Tom and Joan and a brother, Christopher.
Gretchen's years at the Maryland Institute College of Art in Baltimore, Maryland, were the delight of her life. While working toward a bachelor of fine arts degree, her skill at drawing and painting increased measurably and steadily. Her work was chosen more and more to be displayed in various exhibits. She spent the last two summers working in Cold Spring, New York, at "Elisart" painting and designing motifs for custom-designed tee shirts.
Her fall semester in England represented a goal that she had set for herself when entering college. Her entrance portfolio for SU's DIPA program revealed an aesthetic sense, innate perceptual ability and acquired skill. Her experience abroad led her to appreciate original works of the masters in the museums and galleries in London, Paris, Amsterdam and Florence. Her aspiration was to apply to graduate school and continue further study in art education. She was thinking about teaching art to children on an elementary level.
A posthumous exhibit of her paintings was dedicated to Gretchen's preferred theme of peace. "Lets Reach for Peace" the theme painting which marked the exhibit was carried on board 103 by Gretchen and ultimately recovered 20 miles from the crash site. It was restored and displayed in the exhibit.
College friends remember Gretchen for one attribute above all others: her broad and ever-present smile.
Remembrance Scholars Representing Gretchen Joyce Dater
2016-2017
Claire Moran

Maxwell School of Citizenship and Public Affairs; College of Arts and Sciences; Newhouse School of Public Communications

2013-2014
Jona Cano

Arts & SciencesCommunication Sciences and Disorders
2012-2013
Gordon Jones
A&S
Mathematics